Category:
V-HID Kits
Display:
Displaying 1 to 1 (of 1 product)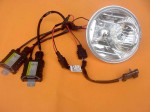 V-HID2
-
HID Headlight System for 2014+ Dual Bulb System
---
PARTS4POWERTOYS

is proud to carry the NEW High Intensity HID for the new dual bulb headlight system

(2014+ Harley Touring models)

. BE SEEN Day or Night on your Harley Davidson. 150 % brighter than the stock headlight. Available for the new dual bulb H9/H11 High/Low beam systems for your Harley Batwing, Road Glide, Road King and others. This kit is the BEST there is for your Harley. Don't compromise your safety, get the ultimate in HID Xenon plasma headlight system for your Harley Davidson. Dual H9/H11 Bulb kits available for only $109.95.for all 2014 + dual bulb system.

NOW AVAILABLE for all 2014 + Harley Touring model with dual bulb system.