Category:
All Products View
Display:
Displaying 1 to 5 (of 9 products)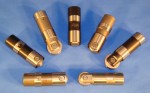 HyLift Lifter
-
Johnson HyLift Lifters
---
Back by popular demand, the original V-Lift Harley Davidson Hylift Johnson lifters are now back. Order your set of stock V-2313, V2313S , V2303, V2303S or V2313SE Twin Cam lifters for excellence bleed down specification and higher oil capacity delivery for better cooling for your valve train. This is the lifter everyone is looking for. These are the original lifters Harley used before HyLift Johnson closed and moved to Delphi unit. Better built to higher specifications for Harley Davidsons Twin Cams. Now only starting at $ 159.00 US for a set of 4 .


V-CreeG4
-
Ultra Super Bright G4 CREE LED Fanless Headlight Bulb 97-2014+ (H4/H9/H11 bulbs)
---

PARTS4POWERTOYS is proud to carry the NEW Ultra-High Intensity G4

FANLESS

100% CREE LED headlight

( 8000 LM light output )

. 250% brighter than the stock headlight. Most powerfull LED headlight on the market today. Fully HIGH/LOW beam compatible. Available for both single or dual bulb H4 Kit systems for your Harley Batwing, Road Glide, Road King and the

H9, H11 2014 + touring models. Convert your old bulb into a 100% CREE LED G4 version. Don't compromise your safety, get the ultimate in CREE LED headlight system for your Harley Davidson. Single bulb headlight kits start at $ 89.95. Dual H4 Bulb kits available for only $ 109.95 for all Road Glides Models and now available for the 2014+ touring models

.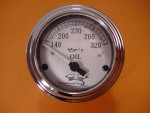 V-Temp
-
Oil Temp Gauge for Harley Davidson FLH for 1998 to 2013 models
---
Now available from Parts4PowerToys, replace that unused Air Temperature with an accurate V-Temp Oil Temperature gauge. Form fit and function, highly accurate. See what your oil temperature is really at. Will read oil temps up to 320+ degrees Fahrenheit. Now also available with "Anti Fog back lighting (LED)". Prevents gauge condensation problems in cooler weather. Exclusive to Parts4PowerToys Available in Silver face with Chrome trim and Black face with black trim for 1998 to 2013 model years. Complete kit with sender and wires now only $ 149.00 US.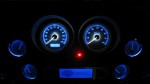 V-Gauge
-
Speedo&Tach Backlight LED upgrade
---

Now available from Parts4PowerToys, Upgrade your speedo and tach background LED's to any combination of colors. We offer BLUE, RED, VIOLET, GREEN and WHITE with any combination of needle pointer and LCD background colors. Send in your speedo and tach to us and we will upgrade them for $ 179.00 (speedo and tach) or $ 129.00 (single gauge only) plus shipping and handling. If you would like more information about our speedo/tach backlight upgrades, please send us an email at tech@parts4powertoys.com.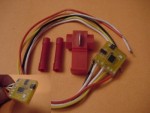 V-Brake
-
Brake light flasher for Harley Davidson
---
Today safety on a motorcycle is the key most important aspect of safe riding. Equip your Harley-Davidson with the Ultimate V-Brake light flasher with 36 user selectable flashing modes. All user selectable with a built in delay re-activation timer for multiple brake pedal applications in heavy traffic. Re-activation timer selectable from 0 - 15 - 30 seconds. This will ensure that the vehicle following you will not be aggravated by the constant brake light flashing in traffic. Available now for only $ 39.99 US plus shipping and handling.