Category:
V-HID Kits
V-HID2 - HID Headlight System for 2014+ Dual Bulb System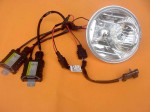 ---
Parts4PowerToys is proud to offer our customers our HIGH QUALITY H9 & H11 Xenon 5000k (Super White color) V-HID2 Xenon kits for all 2014+ Harley Davidson dual bulb headlight based systems. This is the only zero modification installation kit available on the market today and exclusively available only from Parts4PowerToys. Install our kit in less than 30 minutes without any wiring modification and using all existing wiring harness and connections from the motorcycle. No more wiring directly to the battery or splicing wires. Ballast and relay module are fully water and vibration resistent.
Visibility on the road today is the paramount for safety, make yourself visible in both Day and Night conditions.

All kits come with complete instructions and hardware to complete a professional installation. NO wiring modification required. Plugs into the existing H9 and H11 motorcycle harness (Low and High beam headlight connector). Backed by our 1 year warranty, there is no system better or easier to install on the market for your NEW 2014 + Harley Davidson. Our V-HID2 Xenon kits are low power consumption with only 35 Watt draw instead of the original 55/60 watt system and with the equivalent light intensity of a 150 Watt bulb. All our ballasts are slim ballasts (Ultra Thin) and relay modules are fully waterproof and using the latest in Digital Technology. With simple integrated relay and power cable all in one.

Color intensity is the ultimate 5000k Super-White color temperature. Complete V-HID2 kits at $109.95.


Do yourself a favor and upgrade to our ultimate easy to install in less than 30 minutes V-HID2 Xenon kits.
Visibility in all day/night conditions is the ultimate for added safety.
| | |
| --- | --- |
| V-HID 2 Kit | V-HID 2 Kit |
| | |
---