Category:
Enhancement & Accessories
V-Brake - Brake light flasher for Harley Davidson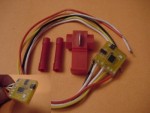 ---
Parts4PowerToys
is proud to offer our high quality compact

V-Brake

light flasher module. Compact and fully compatible with LED or Incandescent lighting
Safety on the road today is paramount, make yourself standout with an attention getting
V-Brake
light flasher system with 36 user selectable modes from strobe flashing to slow, medium and fast flasher. Now only $ 39.99 plus shipping and handling.

Our V-Brake light flasher kits come with everything you need for a quick easy 15 minute installation.
All kits come with complete instructions and hardware to complete a professional installation. Backed by our 2 year warranty, there is no system simpler and easier to install on the market. Installs in less than 15 minutes with simple tools. The
V-Brake
flasher module is incased in a permanent clear epoxy housing that is fully waterproof with no moving parts. You can also install an optional mode selection pushbutton switch and you can select from 36 flashing modes within seconds whenever you like.
Only for 2013 Models and lower
.
Will not fit 2014+ models with CanBus Systems.
| | |
| --- | --- |
| | |
Features:
Alert Those Behind You When Slowing Or Stopping In Traffic!!!
36 Different Flashing Modes !!!
This May Be The Most Important Safety Device You Ever Add To Your Ride!!!
It May Prevent You From Being Rear-Ended and It May Even Save Your Life!
36 Mode of operation ( 2,3,4 and 6 flashes. From STROBE to SLOW).
Unique Re-Activation delay with selection of 0, 15 or 30 seconds period to minimize the annoyance of constantly blinking lights in heavy traffic.
Temporary flashing light OFF mode.
Easy 15min install. Only 3 wires to connect, only 1 wire to cut.
Small clear water-proof package (.1/2" x 1/2" x 1/16") / (14mm x 14mm x 5mm).
Microprocessor based for reliability and accuracy of operation. Totally silent no relay clicking sounds.
Legal in all 50 states and Canada.
Program by simply touching two wires together or add an option pushbutton (not included) for on the fly selection.
The V-Brake flasher module is a microprocessor based circuit specifically designed for rear brake light operation and is packaged in a very tiny package so it can fit behind any third brake light assembly or under the seat. It works on both LED and incandescent bulbs (4amps max)
Note: Please review shipping terms here


---