Category:
Lighting & LED Upgrades
V-NoFog - Replacement LED lights for Harley-Davidson gauges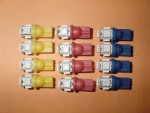 ---
Tired of having to have your gauges fog up in cooler tempuratures? Well Parts4PowerToys has a solution for you. Our V-NoFog gauge lighting kits (4 lights per kit) are now available to prevent 80 % of gauge fogging and condensation problems. These are the best in HighTech Ultra bright drop in LED bulb replacements for all your Harley Touring gauges. Now also available in standard AMBER, BLUE and RED color. The RED will match perfectly your Harley Radio RED backlighting. As always, PARTS4POWERTOYS is offering a free LIFETIME WARRANTY at no charge. Thats how much we love these kits. STOP YOUR GAUGES FROM FOGGING. Get one of our V-NoFog Kits.

80% FOG FREE FOREVER. Get yourself the V-NoFog light kits for your Harley Davidson.

Note: Please review shipping terms here
---